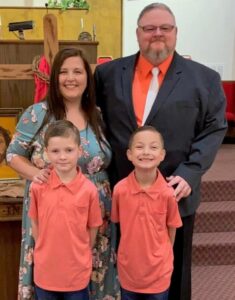 Bro. Billy Jack Smith was born in Lufkin and raised in Diboll, Texas where he graduated high school in 2001. He was saved in 2009, and surrendered to the Gospel ministry on September 25, 2011, where he was licensed to preach by Harmony Hill Baptist Church.
He accepted the call to be Associate Pastor of Chestnut Drive Baptist Church in September of 2019. On September 26, 2021, CDBC ordained Bro. Billy Jack and in February 2023, he was voted in as the church's pastor.
Bro. Billy Jack holds two seminary degrees (Associate's of Divinity and Bachelor's of Arts in Religion) from Baptist Missionary Association Theological Seminary of Jacksonville, Texas. He is currently working on his Master's degree.
He has been married to Ashley Smith, CDBC's Childrens Director, since 2010. Ashley is originally from Beaumont and was saved at seven years old. Ashley was a youth pastor in Oklahoma where she became an avid Oklahoma Sooners fan. Ashley and Billy Jack have two boys who love baseball and soccer. All four members of the Smith family are big Houston Astros fans and attend the games in Houston every year.